CCTV image released after Oxford rail station vandalism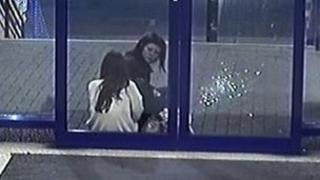 Police investigating the breaking of glass doors at Oxford railway station have released a CCTV image of a woman.
The entrance was kicked in by a woman during the early hours of 11 March.
PC Roddy Brown, of British Transport Police, said: "The irresponsible act not only put her in danger, but could have caused injury to others."
Officers said a group of young men and women had been hanging around the station before being collected by someone in a silver Peugeot 206.