Skate park in Faringdon faces delayed opening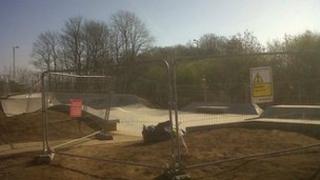 An Oxfordshire skate park which has taken 20 years to plan and build has still not been opened for use.
The Faringdon park was built as part of an agreement with developer Bloor Homes and needs to be handed over to the council before it can be used.
But the Vale of the White Horse council said it was still waiting for further work to be carried out before the handover could take place.
It said it was working with the developer to open the park.
Mirabelle Mack, from Faringdon Sk8, said: "We have this fantastic modern skate park facility which is surrounded by fencing and signs which explains the skate park is not open and saying trespassers will be prosecuted.
'Rather frustrating'
"It's very frustrating for us. Our ultimate would be to get this opened for the Easter holidays because there will be a lot of guys off school - and going out and spending their days on a new skate facility would be ideal."
Dan Langley Smith, a 25-year-old skateboarder from Faringdon, who has been involved with campaigning for the Stanford Road skate park since his early teens, said: "It's rather frustrating, but it's not surprising, given the nature of the campaign from the outset.
"It took them a long time to build it and now it's built, it's taking them a long time to open it."
In a statement, the district council said: "The works to adjoining land have not yet been completed in accordance with the planning agreement so it has not yet been possible to hand over all the land to the council.
"However Bloors and the council are working together so that the council can take over as soon as possible and the skate park can be opened."