Morris car designer's home Nuffield Place opens to public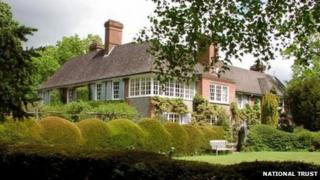 The Oxfordshire home of the Morris Motor Company founder has been opened to the public during the week for the first time.
William Morris, later Lord Nuffield, became one of the wealthiest men in the world after launching his motor cars.
As a philanthropist he lived modestly at Nuffield Place, near Nettlebed, and gave away £30m - £11bn in today's money - to support hospitals and education.
Lord Nuffield lived there with his wife from 1933 until his death in 1963.
Owned by the National Trust, the house is now open for five days a week following a campaign to raise £600,000.
The contents of the 1930s country house have remained largely unchanged since that time.
Robes worn to official functions, personal letters and framed cartoons can be seen throughout the house.
He left the house to Nuffield College, which recently offered it to the National Trust in a bid to preserve it.
National Trust general manager Richard Henderson said: "Despite Lord Nuffield's extraordinary philanthropy and achievements, he remains relatively unknown.
"His home is a wonderful time capsule without any of the show of a multi-millionaire and reveals so much about the man who changed many people's lives for the better."
The Morris Motor Company was started in 1910 when Morris, then a bicycle manufacturer, turned his attention to cars.
An active fund-raising campaign continues to secure the long-term future of the property.
Visits must be pre-booked by contacting the National Trust.