Eleven rescued from Didcot flats fire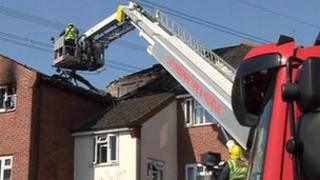 Eleven people had to be rescued by firefighters after a block of flats in Oxfordshire caught fire.
The blaze at Venners Waters, Didcot broke out in the top floor of the three-storey block of flats in the early hours.
A number of people were treated in hospital for the effects of breathing in smoke.
The rest of the flats and nearby buildings were also evacuated with about 30 residents taken to safety.
Resident, David Shepard said: "My girlfriend's due to have out third child in two weeks, she woke up just after five screaming, I looked out the window and there were 5-6ft flames coming out the roof."
At the height of the fire, eight fire engines and 45 firefighters were involved in tackling the blaze which had burst through the roof.
Incident commander Pete Graham said: "The fire had already become established on the top floor and therefore our initial efforts were concentrated on rescuing those in danger on the top floors."
The cause of the fire is under investigation.