Oxford Mini car factory staff reject latest pay offer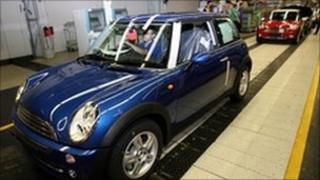 Workers at a Mini car plant near Oxford have rejected the latest pay offer, raising the possibility of a strike.
Staff at the BMW-owned plant in Cowley have not taken industrial action for almost 30 years.
Union Unite said 97% of its 2,000 members had voted against the latest deal offered by BMW.
Workers say too many conditions relating to overtime, a bonus payment and rest periods have been attached to the pay rise, set at 2.2%.
Unite spokesman Roger Maddison said: "BMW has made a pay offer of just over 2%, and the rest of the deal comes with significant strings attached.
"The union never closed the door on talks, and we are happy to get back around the table, but we are also making preparations to ballot our members for strike action."
Speaking on behalf of the plant, Wayne Morse from BMW Mini admitted there was disappointment at the news.
But he added: "A date has been set to recommence negotiations with our union representatives."
Rover owned the factory during the last strike in 1984.