Oxford Cowley Road community supermarket set to open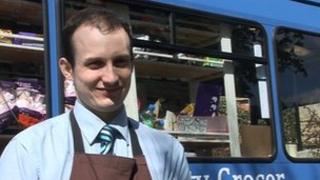 An Oxford greengrocer is setting up a community-run supermarket after getting the idea from a TV programme.
Chris Waites' new venture was inspired by Channel 4's The People's Supermarket, which followed restaurateur Arthur Potts Dawson setting up a business in central London.
After he watched the show, he decided to bring the concept to Oxford.
"It's a supermarket owned by the people, for the people," he said.
Set to open up on the bustling Cowley Road by the summer, the store will be run by local volunteers who will do shifts in return for a discount in the shop.
He added: "The shares are all owned by members of the community who also volunteer their time.
"It means we can bring great local food at a much cheaper price than the normal supermarkets whilst still giving a fair deal to the farmers and producers that we work with as well."
'Enthusiastic response'
The supermarket is designed to be a non-profit organisation.
He said: "We have to make money to pay the bills but any surplus money left at the end of that can be reinvested back into community projects."
Mr Waites makes his living as a community grocer, delivering shopping to residents' front doors in Oxfordshire villages.
"I'm very passionate about bringing local produce at a good price to the community and the shop in Oxford is the next step," he said.
"Living in Oxford I know how many people are passionate about local food, and also about keeping profits within the community."
The venture requires 500 volunteers and Mr Waites has already recruited half that amount.
He added: "We've had a very enthusiastic response from Oxford, so it's been absolutely great.
"Members offer four hours of their time every four weeks to help run the supermarket and that can be anything from stacking the shelves and being on the till, right through to doing accounting or media work.
"Whatever their particular skills are, obviously we'd like to take advantage of that, and work with them."
'Real alternative'
Nearby resident Cathy Smewin called the idea "absolutely brilliant".
She said: "I love the thought that it's the people manning the shop that are going to end up with shares in the business.
"It's an incentive, it makes them feel like part of the community, and is a really good thing to do."
Emma Whyte, another resident, added: "I think there's a revolution on the wind and I think people are excited about ventures like this and want to get involved."
Mr Waites is confident he can compete with the bigger chain superstores on Cowley Road.
He said: "What we'd like to do is provide a real alternative… great value foods, cheaper than the supermarkets, but all locally sourced and produced as well.
"The big supermarkets import food from all around the world, and it's very much boring, bland, corporate stuff."
Mr Waites will not be paid for his time, or claim any expenses.
But he suggests three full time managers, accountable for the cash and stock, plus a chef, would be paid salaries.
It is an idea that has gone from a pub conversation to a "shop, members, and a million things to sort out" in a couple of months, but Mr Waites is excited about the future.
"It's all snowballing very fast indeed... but at the moment we're finalising the lease on the shop.
"A few people have suggested it's a strange thing to do but if I can make a living and also help the community at the same time, then to me that's absolutely perfect."