Kidlington High Street closes to traffic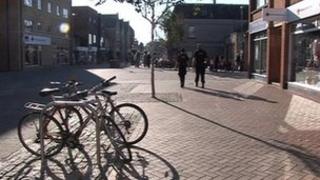 An Oxfordshire village has closed its high street to motor vehicles.
Traffic is no longer allowed in the new pedestrianised area in the centre of Kidlington between 10:00 and 16:30.
The car-free area stretches from Watts Way to Oxford Road. Blue badge holders, cyclists and deliveries will be permitted outside these hours.
Kidlington Parish Council said a full consultation was carried out and the new rules would mean a more pleasant environment for shoppers.