Ministers consider moving Oxford train station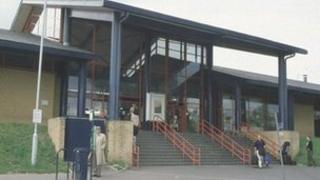 The government has said it will look at proposals to move Oxford's railway station to a new location.
Oxford East MP Andrew Smith raised the issue in the Commons on Tuesday, asking transport minister Norman Baker to look at the plan by Oxford Civic Society.
The society wants the station to be moved from Frideswide Square to the Oxpens area of the city.
Mr Baker, who told the house his mother-in-law lived near the station, said he was interested in the plans.
Responding to the Labour MP's question, Mr Baker said: "We are in a position where we are increasingly devolving responsibility for transport matters down to local council level, I think it's right to do that, and people in Oxford are in a better position to know what's best for them than people in Westminster.
"There are, I think, plans to improve the situation in Oxford anyway in terms of getting more trains running through it and, of course, the electrification programme the government announced will hugely benefit Oxford and points west.
'Jigsaw of land'
"We have to make sure what we don't do is spend money now that would be rendered useless by further changes subsequently but I would be interested in those proposals.
"It's a station I know quite well, not least of which because my mother-in-law lives there... not in the station - nearby, she's not the station mistress."
After the session, Mr Smith told the BBC: "There's a chunk of land by Oxpens which is still owned by the residual old British Rail body and the government wants them to dispose of it.
"I've written to the secretary of state for transport and said don't sell that just yet because it is part of the jigsaw of land that you would need to assemble if the station could be moved.
"There are very strong arguments, as the Civic Society has said, for moving the station. It would enable you to put a coach station alongside it so you would have a proper interchange. It wouldn't leave the station out on the limb where it is now.
"It would provide a new gateway to the city, close to the new Westgate shopping centre development, and it would free up a huge amount of land around the present station site and some in Gloucester Green.
"It would ease all those congestion problems in Frideswide Square, so I think it's worth looking at."
Mr Smith said a study carried out eight years ago found that moving the station would be feasible if funding could be found.
He said: "The point is that now there have to be big changes at Oxford station anyway because there's going to be trains running through Bicester down the Chiltern line to London, also because electrification is on the way, they want to use longer trains and have to lengthen the platforms anyway.
"It seems a once in a century opportunity to get a more sensible location for the station."