WWII log book stolen from Shiplake Cross returned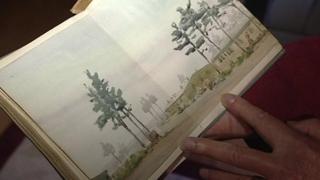 A WWII diary by a prisoner of war has been returned to his daughter after it was stolen from her Oxfordshire house.
Helen Robinson's father wrote the log book while at Stalag Luft III camp in Germany. He arrived shortly after the "Great Escape" had taken place there.
But in a burglary at Mrs Robinson's home in Shiplake Cross, Henley, on 7 April it was stolen along with £5,000 worth of jewellery and gold coins.
It was returned after a Berkshire collectors shop owner recognised it.
Anthony Taplin, who runs the war memorabilia shop in Reading, had bought it for £5 from two youths who visited him last week.
He contacted BBC Radio Berkshire after hearing about the police appeal to trace it.
'Thrown away'
"I was sat in the car with the radio on and they were talking about this world war two memorabilia book, so I turned it up," he said.
"They described the book and I was thinking 'oh, yes, I have a book like that'.
"Then I thought, 'blimey, it's the book, I've got it'.
"It made me choke up, because it's somebody's life and somebody had snatched that.
"They treated that [book] as if they were reading the Sun or the Daily Mirror and then they would have thrown it away. That's somebody's life."
Mrs Robinson said: "I never thought I'd see this again. I just can't express my gratitude enough."
The Stalag Luft III camp is famous for the mass escape by prisoners who had tunnelled their way out in 1944.
The event, known as the "Great Escape", has been the subjects of books and films.
The items stolen from the Robinsons home were taken from a safe in their house while they were out.
They also included birth certificates that belonged to their grandchildren.
PC Matthew Napper, of Thames Valley Police, said he wanted to hear from anyone who noticed any suspicious activity in the area at the time, or if they have been offered any of the other stolen items for sale.