World War II grenades uncovered at Banbury building site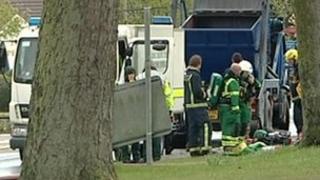 Old anti-tank grenades have been discovered at a building site in an Oxfordshire town.
Police and fire crews were called at about 12:40 BST to a building site in Middleton Road, Grimsbury, in Banbury.
Contractors uncovered an item which let off chemical fumes when disturbed. Army bomb disposal officers found three World War II phosphorus grenades.
Fire station manager Mick Clarke said a controlled explosion was later carried out.
He said fire crews and the Royal Logistics Corps would return on Friday to excavate further to establish if there were any more grenades at the site.
Mr Clarke said phosphorus grenades were usually stored "in groups of 20" so they were likely to find more.
Flammable content
He said: "We believe that somewhere in this area there was a munitions factory, but that dates back to 1919.
"So, as you can imagine, the information we're getting on that is not very reliable."
Mr Clarke said the grenades looked like "milk bottles three quarters of the way full with milk".
"But when phosphorus comes into contact with air it bursts into flames, so they [the contractors] did the right thing in calling us. Nobody has been hurt.
"However three members of the public, who were working on the site, and three of the initial attendance fire crews were taken to hospital for a precautionary check-up because they were breathing the smoke in the early stages.
"They have all been released and are fine with no lasting effects."