Milestone unveiled on Banbury to Coventry road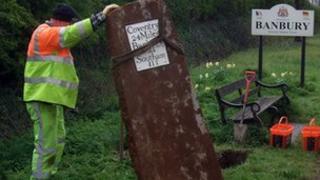 A 200-year-old milestone is being unveiled after it was returned to its position on an Oxfordshire road.
It is the only restored milestone on the A423 Banbury to Coventry road, which once had similar stones marking each mile of the way.
The original metal plate was discovered in a shed in Northampton and placed on a new stone.
The Milestone Society's Mervyn Benford said the stone helped "tell the story of travel".
Milestones were originally put in place on roads in the early 1700s.
During World War II, the government ordered them all to be covered up or defaced to avoid aiding German invaders.