History plaques unveiled in Woodstock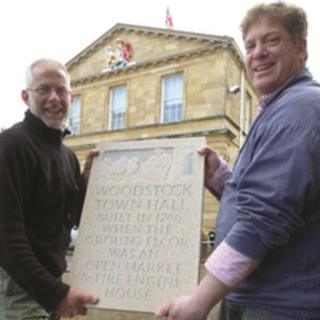 A series of plaques telling the history of Woodstock have been installed in the Oxfordshire town.
They are displayed on seven buildings in the centre and cover a range of historical facts and information.
One of the plaques, on the town hall, illustrates how a market was held in the building during the Victorian era.
The signs are made from Portland Limestone, the same stone used to build the Ashmolean Museum in Oxford.
Local sculptor Giles Macdonald said: "It's a real honour to be commissioned to carry out this project and it has really caught the Woodstock residents' imagination.
"The town has a rich history and I've picked up so many interesting facts through working on the plaques."
The projects by West Oxfordshire Council was funded by money from developer Pye Homes Ltd and donations from local residents.
The stone used was donated by Oxfordshire firm Joslins Stonemasonry.