Will Carterton RAF playground help improve community ties?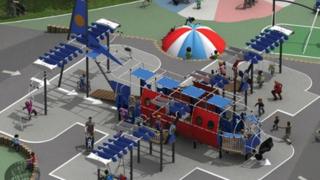 An RAF-themed playground is coming to Carterton in Oxfordshire but will one of its aims to bridge the gap between the RAF community and the neighbouring civilian community work?
The humble playground is, on the surface, a place for children to play.
But one being built with an RAF theme near an airbase in Brize Norton is coming to symbolise a place to "bridge the gap" between the military and civilian communities, as Oxford County Council has put it.
The Airplay park at Faulder Avenue will feature equipment shaped like the Hercules transport aircraft which operate from RAF Brize Norton, as well as mounds to represent parachute canopies.
'Us and them'
"It's hoped the playground will bring together the military and civilian communities by allowing them to interact on a purpose built area," an Oxford county council spokeswoman said.
But can a playground be vested with such powers?
Paul Hughesdon, from the RAF Benevolent Fund, thinks so.
"The playground is to the benefit of the RAF community.
"But because they sit so close in Carterton alongside civilian counterparts, there is a great opportunity for air force families and local community families to mix together and to share experiences with life at Faulder Avenue."
Then again, Mr Hughesdon said his "understanding" was that "the station and the town get along pretty well" anyway.
But this view is not shared by some residents of Carterton.
John Hayes, 34, thinks the playground "will not make a difference " and is "a waste of money".
"There has always been a gap," he said of the military and civilian communities, "it's the same with any garrison town I suppose.
"The majority of them are only there for a couple of years and then they're gone, so they're not really bothered about mixing with the local community."
As a child Mr Hayes used to go to the airbase for a kids club with cinema and bowling, "but that got restricted because of security reasons".
He added that Carterton was "an abysmal place" and that "the RAF should be spending money on rejuvenating the town centre".
'Playground might work'
Mike Parry, 64, from Carterton said there "never has been" any integration between the two communities.
"I think the Americans did when they were here in the 1950s, but now it's us and them.
"They give off this sense that they're superior. They don't integrate."
He does think a playground "might work" to help bridge the gap, as does another Carterton resident Christine McLoughlin, 49.
"Every little bit has got to help to bring people together," she said.
However her experience of living in Brize Norton was also 'us and them' amid the "noise" of aircraft.
"It's just the little things like their firework displays. They could have said to us, 'you put up with a lot, come to our fireworks displays to try and amalgamate with local people'."
Mr Hughesdon, who himself has served 26 in the air force, said: "The armed forces are clearly focused on delivering military output and I think over a number of years there has been the possibility of a mystique of the armed forces.
"This playground provides a great opportunity to try and break that down and say 'good heavens, they really are normal people'."
The playground has been made possible with a £130,000 donation from the Ministry of Defence, which is matched by the RAF Benevolent Fund.
It will cost £330,000 upon completion, planned for the summer, and forms part of a series of national Airplay projects to support young people based at RAF stations.
RAF Brize Norton is the UK's biggest military airbase, employing 3,900 service personnel and 600 civilians.