Drink-drive ambulance boss Robert King found guilty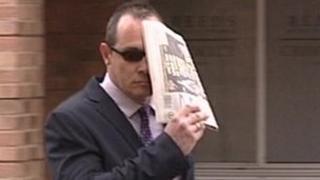 A drink-driving ambulance boss who crashed his work car into a shop window in Oxford has been given a four-month curfew.
Robert King, 48, of Merton Road, Ambrosden, was almost three-and-a-half times over the drink-drive limit when the crash happened in November 2010.
He was found guilty at Oxford Magistrates' Court of driving a motor vehicle while intoxicated.
District Judge Tim Pattinson told King he had committed a "shameful offence".
The former operations manager had pleaded not guilty to the charges, claiming he was never seen in the car and there was no blood in the vehicle to connect him to it.
'Totally unacceptable'
But the judge said he was satisfied beyond reasonable doubt about all the elements of the prosecution case.
He banned King from driving for 28 months and ordered him to pay £1,000 costs.
The court had been told that King had 274mg of alcohol per 100 ml of blood. The legal limit is 80mg per 100ml of blood.
Speaking after the case, a South Central Ambulance Service NHS Foundation Trust spokesman, said King "did not live up to the high standards of conduct expected of all our staff even when they are not on duty".
The spokesman added: "Driving under the influence of alcohol is totally unacceptable under any circumstances, but especially so where the person involved works with the ambulance service and understands the effects that drink driving has on the community and the health service. "
King voluntarily resigned from the service on 21 February 2011.