More anti-tank grenades discovered at Banbury building site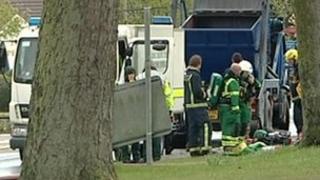 The bomb squad has carried out a controlled explosion after more grenades were found at an Oxfordshire building site.
Bomb disposal experts destroyed the grenades at the Tesco Express Grimsbury site, Banbury, shortly after 18:00 BST.
Contractors at the site uncovered similar items, which let off chemical fumes when disturbed, last Thursday.
The ammunition is believed to be WWII anti-tank grenades usually stored in batches of 20, the fire service said.