Ducks dumped outside Bicester Co-Op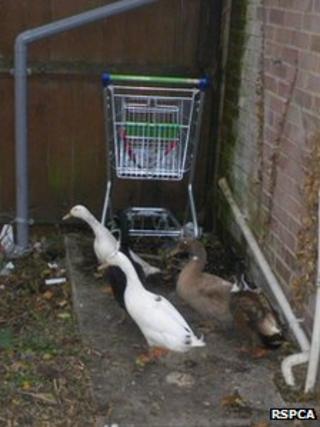 Ducks have been dumped outside a supermarket in Oxfordshire, prompting an RSPCA appeal to find the people responsible for the "bizarre" incident.
Two men in a white Transit van left the five birds outside the Co-Op in Bassett Avenue, Bicester, on 11 April.
Onlookers were forced to usher the waddling birds away from the road until the RSPCA arrived.
Inspector Andy Eddy said appeals were now being made to find the culprits responsible.
The ducks are described as in reasonable health and currently reside with foster carers.
Mr Eddy added: "It is hard to understand why someone would dump five domestic ducks. It is also quite a strange area to leave them in.
"It was a dangerous place to have dumped them and they could have easily gone on to the road or been attacked by another animal."