Wet Oxford May Day celebrations see fall in numbers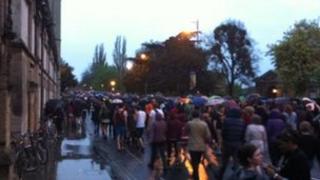 Rain has affected numbers at Oxford's May Day morning celebrations with numbers down to about 4,000 from 18,000 last year.
Traditionally people gather on and by Magdalen Bridge in the city to listen to a hymn which is sung from Magdalen College tower.
In the past people have been hurt jumping from the bridge into the river.
But this year no-one jumped into the river, which has been swollen by recent heavy rain.
South Central Ambulance Service said its crews dealt with five minor incidents, none of which need hospital treatment.
There were no arrests.
Last year the event also fell on a weekend so more people were able to attend.