Oxford NHS Trust pays £4m to brain damaged girl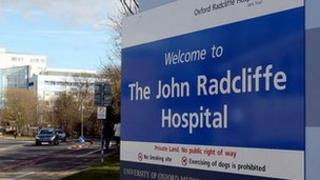 A schoolgirl left brain damaged by birth injuries at an Oxford hospital has won more than £4m in compensation.
The 13-year-old, who cannot be named, was born "white and floppy and not breathing", her QC Lord Faulks told the High Court in London.
The girl's lawyers alleged negligence by medical staff at The John Radcliffe Hospital in delaying her delivery despite evidence of foetal distress.
The hospital's NHS trust admitted liability for the child's injuries.
'Huge regret'
When the girl was born she needed emergency resuscitation to get her breathing.
She has cerebral palsy and needs intensive support for the rest of her life, Judge Patrick Moloney QC heard.
Oxford Radcliffe Hospitals NHS Trust's QC Neil Block apologised to the girl and her family.
He said: "It is a matter of huge regret that mistakes were made which resulted in the disabilities she has."
Lord Faulks said the settlement will be a £4,375,000 lump sum, plus annual payments to cover the enormous costs of her care for as long as she lives.
Judge Moloney said the girl had been "dealt a bad hand".
He added he had "deep admiration" for her parents, who have helped the teenager come to terms with her disabilities.
The girl's parents said they felt "a huge sense of relief that, as a result of this outcome, the future is now far more positive".
They added the compensation would allow them to "make the vital adjustments needed" for their "beautiful child".