Oxford Mini car factory staff accept latest pay offer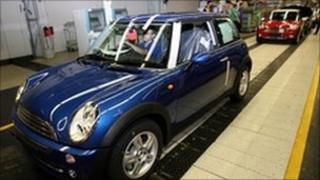 Workers at the Mini car plant near Oxford have accepted the company's latest pay offer.
Union Unite said members had voted two to one in favour of the deal meaning they will be given a 4.5% pay rise this year and a 2.3% rise next year.
Staff at the BMW-owned plant in Cowley have not taken industrial action for almost 30 years.
However, earlier this month there was a possibility of a strike as workers rejected an earlier offer.
The factory staff claimed too many conditions relating to overtime, bonus payments and rest periods were attached to it.
Unite spokesman Roger Maddison said he believed the latest offer recognised "the contribution the workers at Oxford make to the continued success of BMW Mini."