Visually impaired boy's victory in Oxfordshire art competition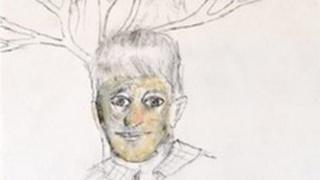 A 12-year-old boy who is severely visually impaired has won a county-wide art competition.
George Nicholson, who suffers from the genetic eye condition retinitis pigmentosa, won his age group in Young Art Oxford.
The competition attracted entries from more than 1,600 pupils from more than 33 schools in the county.
The picture will be displayed alongside 400 other entries at the Ashmolean Museum in the centre of Oxford.
George said art allowed him to express himself and he was excited to have won.
His mother, Hetta Nicholson, said: " Both my husband and I were absolutely thrilled."