Train stranded after hitting cows on tracks near Oxford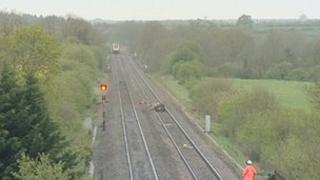 A passenger train with about 200 people on board crashed into a herd of cows on the tracks in Oxfordshire.
The Crosscountry Trains service between Bournemouth and Manchester came to a halt north of Oxford, near the village of Tackley, after hitting 12 animals.
A company spokesman said the train had remained on the rails and no-one had been injured.
The line was closed between Oxford and Banbury and the train was stuck on the line for about four hours.
Passengers wanting to travel on the route were advised to make their way through London. Rail replacement buses were also organised.
Full speed crash
The Crosscountry spokesman said the accident had involved "farm animals that had strayed on to the line."
He said the train would be inspected and then taken to Banbury to drop off passengers.
One of those on board the train, Drew Benvie, tweeted that he had been told they had hit 12 cows at full speed, five minutes after leaving Oxford.
"People in tears. Train is on the tracks," he wrote.
"Everyone incl driver is ok. People saw a vehicle and a lot of blood... We're being assured it was a herd of cattle. Felt like we'd derailed.
"Poor driver, poor farmer and poor poor cows. The train staff have been great. But we're still very much stranded," he tweeted at 20:39 BST.
Shortly after 21:00 he said the train was moving and on its way back into Oxford.