Cyclists sought for Cultural Olympiad tree of light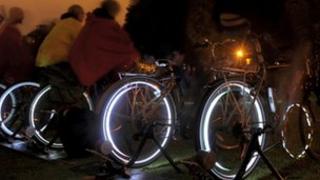 Cyclists are needed to power a giant Tree of Light sculpture lit by low energy LED bulbs in Oxford.
The 16m (52ft) tree will form part of a Cultural Olympiad art project, celebrating trees on the River Thames.
Around 50 cyclists are being sought to pedal bikes 15m (49ft) up in the tree, in eight-minute stints, to light the sculpture.
It will be the centrepiece for the city's Olympic Torch Relay celebrations on 9 July.
An outdoor performance around the tree will feature visual art, music, dance and drama from 1,200 local performers and a 450-strong choir.
The project's creative director Charlie Morrissey said: "Using cyclists to generate power for the performance fits perfectly with the environmental spirit of the project.
"It's a rare situation where the term 'once in a lifetime' is appropriate. Where so many people - from seven to 70 - are coming together en-masse to create something very powerful and life-affirming.
"It's a brilliant way to be part of the Olympic celebrations."
A finale performance will be held at dusk in the grounds of Stonor Park, Henley-on-Thames on 21 July.
The Tree Of Light is a joint project between various organisations that have secured £1.2m in grants from Legacy Trust UK and Arts Council.