Rule Britannia was 'opposition anthem', says Oxford historian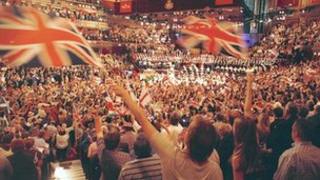 Rule Britannia may have been written as a song of opposition to King George II, rather than a patriotic anthem, according to an Oxford historian.
Oliver Cox unearthed letters believed to be written by audience members of its first performance in 1740.
They suggest the song, performed each year at the Last Night of the Proms, reinforced beliefs of politicians who supported the Prince of Wales.
Mr Cox described it as a "very potent attack on the king".
He likened it to the D-Ream song Things Can Only Get Better which Tony Blair used as a soundtrack to Labour's election victory in 1997.
'Call to arms'
The song, written by James Thomson and David Mallet, was the finale to Alfred: A Masque, about the Anglo-Saxon King Alfred.
Mr Cox, of the University of Oxford, said: "It was an opposition call to arms by politicians who had pinned their loyalty to Frederick, the Prince of Wales.
"It is looking forward to a new era of kingship".
The prince had been exiled from the king's court and was the focus of opposition to the policies of George II and his prime minister Sir Robert Walpole.
Among the documents found in Oxford University's Bodleian Library was a letter from Martin Madan (an equerry to Prince Frederick) to his wife, concluding that "the whole is a noble lesson & proper to be exhibited to a Prince that durst hear truth".