Museum 'within reach' of Manet painting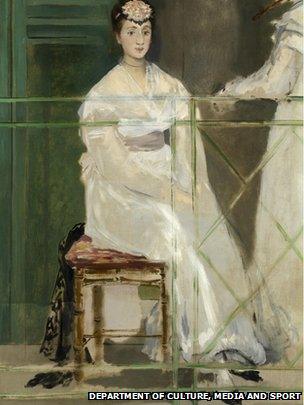 An Oxford museum says it is "within reach" of preventing an oil sketch worth millions from leaving the UK.
The painting by French impressionist Manet is on display in the Ashmolean Museum while it continues a public appeal to raise the £1m still needed.
It has been exhibited only once since it was painted in 1868.
Susan McCormack from the museum describes seeing the sketch by Edouard Manet of his wife's friend Fanny Claus in the flesh as simply "breathtaking".
"It does have an impact on you because there's something so stunning about it," she said.
The 111 x 70 cm Portrait of Mademoiselle Claus had been sold to an unnamed foreign buyer for £28.35m.
But Culture Minister Ed Vaizey put an export ban on the picture until 7 August and it was offered to the museum minus tax at £7.8m.
The Reviewing Committee on the Export of Works of Art and Objects of Cultural Interest has declared the picture of outstanding aesthetic importance and significance for the study of French painting.
The Heritage Lottery Fund has made a £5.9m donation towards the purchase.
The museum has also been given £750,000 by The Art Fund and £200,000 from private individuals. Leaving a £980,000 shortfall.
Ms McCormack said: "It's within our reach, it's very tantalising, everybody's very optimistic.
"It's got an interesting history, it's a study for one of the greatest impressionist paintings, The Balcony.
"Although he was French he belonged to everybody, he was particularly admired by artists rather than critics at the time."
Manet was one of the first artists to paint modern life around him, the sketch of his wife's friend Fanny Claus, a concert violinist is thought to be one of his earliest in this style.
Ms McCormack said: "It was originally a larger canvas, at some stage Manet cut it down, so there's a bit of mystery - where that other canvas is no-one knows.
"Art historians get very excited about his use of pure white and pure black as hardly any other artists did that."
It has been in a private family collection in the UK for 128 years since its purchase by artist John Singer Sargent.
Ms McCormack said of Manet: "Because he was quite controversial, people now call him the father of modern art.
"England was slow to collect impressionist paintings so there's not a very strong collection across the UK so it's important."
The museum which has an online petition of over 1,600 supporters for the painting hopes to tour the artwork throughout the UK if it is successful.
Related Internet Links
The BBC is not responsible for the content of external sites.