Oxfordshire County Council leader sets out growth aim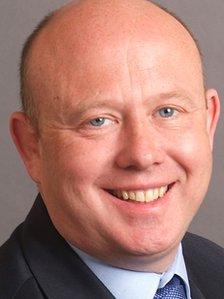 Britain may be back in recession, but the new man at the helm in Oxfordshire is determined to try to buck the national trend.
Oxfordshire County Council's new leader Ian Hudspeth has set out one of his key aims - driving growth.
He is putting together a new cabinet team and is creating a position on it specifically to help achieve this aim.
Conservative Mr Hudspeth is replacing the long-standing Keith Mitchell who steps down after 10 years in charge.
Mr Hudspeth says he wants Oxfordshire to be seen as "a place where people can come and work, and where businesses can thrive".
He has named Councillor Nick Carter in the new role of Cabinet Member for Business and Communications.
His job will be to look at the way the council works with small and medium size businesses in Oxfordshire.
"We're going to be looking right across the council to see if there are any blockages, and to see where we can improve communication," said Mr Hudspeth.
"The more growth we have, the more jobs we'll have."
Mr Hudspeth previously ran hardware shops in London before giving them up to "concentrate on local government".
As the new leader he has admitted wanting to put his own stamp on things, but also knows he is partly constrained.
The authority is midway through a four-year programme of austerity measures that he must stick to in order to deliver savings of £119 million.
Some think Mr Hudspeth's changes are long overdue.
Nigel Wild, president of the Oxfordshire Chamber of Commerce, said: "There has probably not been enough communication between the council and businesses before.
"Often the council are not aware as they should be as to what's going on. I think there needs to be much more communication and dialogue, and more understanding of each other's priorities."
But Labour councillor Richard Stevens said it would be difficult for the council to swim against "the Tory tide of recession".
He added: "The record of the coalition government on growth is dreadful.
"Unless the government sorts out bank lending, we're not going to see business growth because companies small and large cannot get access to funding.
"The banks have just hoarded the funding they've been given from central government.
"Without fundamental reform of the banking system we're going to struggle to see growth in Oxfordshire."
A further indication of the difficult task ahead is that just a week after winning the Conservative leadership election at the council, Mr Hudspeth lost his West Oxfordshire District Council seat - a shock defeat for his party in the local elections.
In 2013, Mr Hudspeth will face the public again in the county council elections.
His ability to sink or swim at these will depend on how he wins the confidence of Oxfordshire voters in the months to come.
Related Internet Links
The BBC is not responsible for the content of external sites.