Plans for new hangar at RAF Brize Norton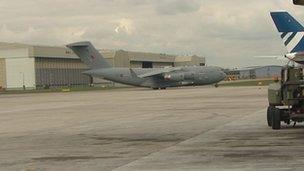 Plans to build a large aircraft hangar at RAF Brize Norton have been announced.
The building at the Oxfordshire base could house three aircraft at any one time, measuring 143m (469ft) by 147m (482ft), and 28m (92ft) high.
A West Oxfordshire District Council planning sub-committee is set to discuss the proposals on 21 May.
Proposals are expected to be deferred until more is known of the building's environmental and visual impact.
The report from the head of planning and sustainable communities states: "It could have impacts beyond the immediate vicinity.
"Due to the scale of the building, its proximity to the village and a public footpath, and as a consequence of the potential to increase flood risk, officers determined that the application required an environmental assessment to be submitted."
The hanger would be located on the south of the airfield and be used for the maintenance and repair of A400M transport planes.
It would be the second biggest on the site.
Related Internet Links
The BBC is not responsible for the content of external sites.