Man dies in Thames mobility scooter plunge at Abingdon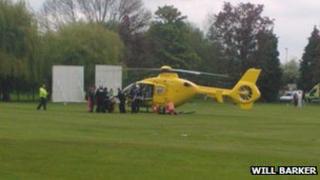 A man in his 70s has died after his mobility scooter went into the River Thames in Oxfordshire.
Police said it was not clear why the scooter had ended up in the water near Abingdon Bridge in Bridge Street, Abingdon, on Saturday afternoon.
The man was pulled from the water by someone on a nearby boat.
He was airlifted to the John Radcliffe Hospital but later died. His death is not being treating as suspicious and divers are due to recover the scooter.
The air ambulance landed on the nearby Hales Meadow Cricket pitch, disrupting an ongoing game.