Village film Tortoise In Love gets London premiere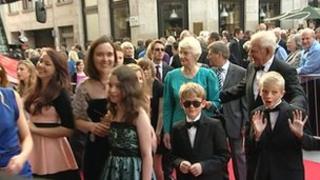 "It was the experience of a lifetime. We've waited three years for tonight and here we are."
Pat Dando is one of almost 600 residents of a small Oxfordshire village who banded together in order to make their own feature film.
On Thursday evening they boarded coaches from their homes in Kingston Bagpuize to travel to Leicester Square for its London premiere.
Mrs Dando, whose garage was used as the production office, said: "It's just lovely to see everyone coming down the street in their black tie and lovely dresses and everybody feels the same - we've been running on adrenalin all day."
Tortoise In Love was filmed on location in Kingston Bagpuize in 2009 by writer and village resident Guy Browning.
He persuaded his neighbours to play extras and provide catering, props, locations, costumes and countless other tasks during the six-week shoot.
'Immense occasion'
Di Gerring helped bake for the cast and cleared up after them.
"It was absolutely horrendous cooking for all those people," she said: "You don't realise."
But she now feels those difficult few weeks were worth the effort.
"It's really exciting. I've never been up to London theatreland or anything before, so it's good," she said.
Paul Christensen had a two-word part in the film and some scenes were shot on his farm.
He said: "This is an immense occasion for the village and it's all around one man who's made this happen, Guy Browning.
"It's inspirational for lots of reasons.
"First of all, it has brought a whole rural community together and it's created a massive can-do spirit - it's created a film that we never dreamt would get released.
"We thought there was an outside chance, and here we are, sat on the coach going up to Leicester Square to see the world premiere."
MP's cameo
On the red carpet, Mr Browning said: "I'm feeling as though I am at the best wedding/party/village celebration in the world.
"That's what it feels like because everybody I know is here. We're all celebrating something that we've done together.
"It just couldn't be a better atmosphere."
Joining him in the cinema was another one of the film's stars, the Culture Minister Ed Vaizey.
The local MP lives in the village and contributed a one-line cameo to the project.
He joked: "This was my film debut but I'm sure it's not the last time."
The film was the first to premiere in Leicester Square after it reopened following a multi-million pound renovation on Wednesday.
It will be released in cinemas across the UK, Australia and New Zealand on 13 July.