Sudanese detainees 'on hunger strike', claim activists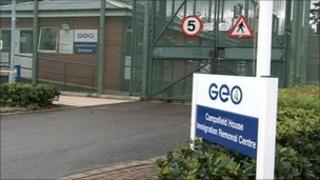 Sudanese detainees are on hunger strike at a detention centre near Oxford, human rights campaigners say.
The 13 men, from the Darfur region, are being detained at Campsfield House, an immigration removal centre in Kidlington.
The claims are disputed by the UK Border Agency, which says six men are currently refusing prepared food and have access to other facilities.
Campsfield House staff are continuing to monitor the situation.
The centre detains men held under immigration laws.
Local campaigner Tim Flatman and chairman of the Sudanese community in Oxford, Nazar Eltahir, said the men were demanding they be released and granted asylum.
The UK Border Agency said it was not prepared to comment on individual cases.
The men began their hunger strikes a week ago.