Spring Hill Prison inmates transform market garden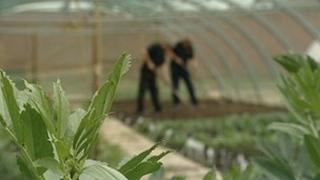 An Oxfordshire businesswoman has helped transform derelict land at a prison into a training centre for inmates and a farm shop for the general public.
Karyn Buck, 45, from Watlington, secured £275,000 of lottery funding to carry out the work at Spring Hill Prison in Grendon Underwood, Buckinghamshire.
The buildings and garden, which includes an orchard of 200 apple trees, was built and planted by inmates at the open prison.
Ms Buck said: "I'm enormously proud of the time, effort, and hard work the guys have put into it."
Her mentoring background led prison head Brian Hirons to ask her if she could help develop the disused site in 2008.
Ms Buck's hunch was to use the project to "develop a concept of education and community support".
Funding was obtained in late 2010, with work beginning the following January after she interviewed prisoners to find a project manager.
'Wildest dreams'
Inmates were paid the standard prison wage of £9.25 a week and over the next few months the market garden sold its first rhubarb, herbs, new potatoes and eggs.
In addition apples were sent to Waterperry Gardens in Wheatley and pressed into juice.
New horticulture and carpentry courses meant inmates could gain qualifications through the Royal Horticultural Society and Abingdon and Witney College when helping out at the site.
Mr Hirons said the project had succeeded beyond his "wildest dreams".
He said: "We wanted to do something where we could grow fresh produce that we'd be able to use in the prison and also sell to the wider community, and also something that gave the prisoners a chance to attain real qualifications that would help them achieve employment upon their release.
"It helps to break down barriers and the preconceptions of what prisoners are.
"I think it's a pioneering thing."
One of the prisoners, Rob, said working in the garden gave him "freedom of thought".
He added: "I've learnt a lot more about growing on a commercial level.
"I've been able to hone a few skills and works things out myself, hitting deadlines, and doing stuff specifically to an order.
"It's something I've found more of a passion for since I've been here."
Local resident Sandy Miles said she was a fan of the produce on offer at the newly-opened shop.
"It's fantastic because we're such a long way from the shops, so it's lovely just to pop up and get fresh vegetables."
Spring Hill Farms and Gardens is now a limited company and Ms Buck is aiming for it to be self-sustaining by 2013.
She said there were many preconceptions about the prisoners.
"I've never ever once felt threatened or at risk in the prison. It's less frightening than walking down a street at night.
"They are diligent, hard-working, and grateful for the opportunity so it was a win-win situation.
"It makes good business sense, and the most important thing is they don't go back to prison again and that every penny goes back into the project."