Diamond Jubilee: Top Gear man in Abingdon Jubilee bun throw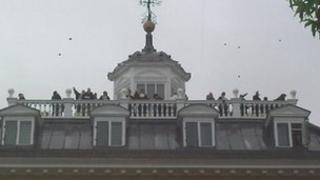 Top Gear presenter James May has helped throw 6,000 buns in Abingdon as part of Diamond Jubilee celebrations across Oxfordshire.
The town hosted its 250-year-old royal tradition from the roof of the county hall.
May was asked to help come up with a contraption to fire buns at the hard-to-reach parts of the crowd as part of his TV show Man Lab.
There were chants of "we want buns" before the crowd was pelted with them.
Champion throwers
The first bun throwing event marked King George III's coronation in 1761 and the town has been flinging currant buns to mark royal and national events ever since.
TV star May pitted his machine against two champion throwers as 6,000 buns took to the sky - 100 buns for every year of the Queen's reign.
He said: "When we got the call from the good people of Abingdon we were only too happy to rise to the challenge."
Elsewhere across Oxfordshire more than 50 street parties have been held as the county celebrates the Jubilee.
Banbury marked the event with a street party where post-war style ration book tokens were exchanged for 1950s food.
See all the latest Diamond Jubilee news and features at bbc.co.uk/diamondjubilee