Diamond Jubilee: Oxfordshire hosts Jubilee celebrations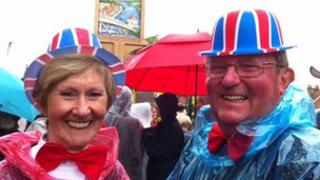 More than 50 street parties have been held across Oxfordshire on Sunday as the county celebrated the Queen's Diamond Jubilee.
Banbury marked the event with a street party where post-war style ration book tokens were exchanged for 1950s food.
In Abingdon, Top Gear presenter James May helped to throw buns from the roof of the county hall as part of a 250-year-old royal tradition.
A lunch party was held in Goring and Streatley followed by a carnival procession and open-air concert.
Organisers shipped in thousands of red, white and blue ponchos for the event, which was 1km long and spanned the two counties of Oxfordshire and Berkshire.
The twin villages, separated by the River Thames, were due to host a water pageant on Monday, as well as a junior Olympics-style event.
'Children will remember'
Henley-on-Thames hosted a private Big Lunch with 60 people all over the age of 80 attending in the town's Market Place.
A big screen in the Market Place looked back at royal events over the past 60 years beginning with the Coronation in 1953.
Ten flotillas from the Henley area also took part in the Thames Diamond Jubilee Pageant in London.
Watlington High Street was jubilant with live music, flags and hundreds of people enjoying champagne, lunch, patriotic cupcakes and even red, white and blue crisps.
Mum-of-two Susie Ingram, 39, from Watlington, said: "It's been great considering the weather, we hope this is something our children will remember."
The party will continue in the town as part of four days of events, with a beacon being lit on Monday and a music festival on the hill on Tuesday.
A tree-planting event is taking place in Sheep Street, Bicester, with the town celebrating with an all-day Jubilee carnival on Monday.
See all the latest Diamond Jubilee news and features at bbc.co.uk/diamondjubilee