Oxfordshire Jubilee beacons lit on towers and parks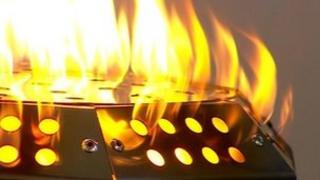 People in Oxfordshire have lit 45 Jubilee beacons and at least 12 unofficial ones.
Some are in recreation grounds with others on the top of towers such as Magdalen college tower in Oxford.
Victoria Cliff-Hodges from the Earth Trust is looking after a beacon on the hills of Wittenham Clumps.
She said: "It will be visible for a very long distance, villages all around and the town of Didcot and many people further afield will be able to see it."
'Land of Hope and Glory'
The fire service had to be brought in to install an official beacon at St Leonard's Church in Eynsham.
Father Martin Flatman said: "They are metal things, a bit like an Olympic thing, with a gas cylinder so that they make a great show but they won't burn down the church, I hope."
Abingdon has an event in Abbey Meadows with a big screen to show the concert from Buckingham Palace. Abingdon's beacon was lit at 22:15 BST.
In the village of Wendlebury, near Bicester, a local resident built the beacon.
Anni Thompson from the village said: "It's very large, so we are having that, then we are having a fireworks display, then we are going to the pub where we are going to have a party and sing Land of Hope and Glory and such fantastic songs."
See all the latest Diamond Jubilee news and features at bbc.co.uk/diamondjubilee