Two sisters lose husbands and father in Oxfordshire crash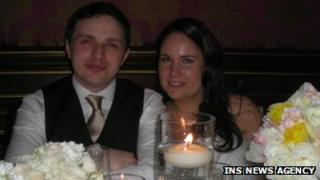 Two sisters, one a newlywed, have lost their husbands and their father in a triple fatal crash in Oxfordshire.
Sarah Pain, 29, and Angela Hughes-Brooks, 37, survived when the Mercedes they were in came off the A4074 at Sandford-on-Thames, near Oxford.
But Mrs Pain's husband Andrew, 31, Mrs Hughes-Brooks' husband Greg Brooks, 39, and the father of both women, Stephen Hughes, 57, died on Monday.
Mr and Mrs Pain, from London, were married in Baltimore, USA, on 24 March.
They had celebrated their recent marriage with British friends and family, who had been unable to attend their wedding, two days before the crash.
'Dreadful situation'
Mrs Pain and Mrs Hughes-Brooks suffered serious injuries and remain at Oxford's John Radcliffe Hospital where their condition is described as stable.
Mr Pain's family said they were grateful for the messages of support they had received since the crash.
In a statement, they said: "We are comforted to know that they had all had a wonderful weekend with their family.
"If there is any good to be found in this dreadful situation it must be that we are all now incredibly aware of and grateful for the love we share with our remaining family."
Greg Brooks lived with his wife in Maryland, USA. Mr Hughes also lived in Maryland.