Chinnor cement works lake fish 'will not survive' move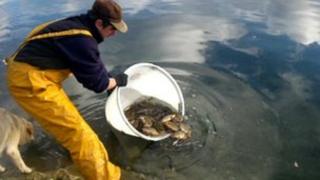 An Oxfordshire angling club has said hundreds of fish will die in a forced move from a lake.
Chinnor Works Angling Society had been given 21 days to remove an estimated £10,000 worth of fish from a lake at the town's old cement works.
But it said a lot of the fish stock would be killed if moved at this time of year as they were spawning.
Developer Taylor Wimpey which now owns the site said the lake had to be sealed off to build new homes.
The company said it was "keen" to ensure "minimal disruption" to the fish stock during relocation.
But society chairman John Mitchell said the roach, perch and pike "won't survive being moved".
"We're going to lose a lot of our stock. We're only going to be able to get the carp and tench out."
A Taylor Wimpey spokesman said it was "not safe for the angling society to access the lake" during construction.
The company added it would transfer the stewardship of the land which the lake is on to a wildlife trust.