Hundreds of tyres dumped in Claydon lay-by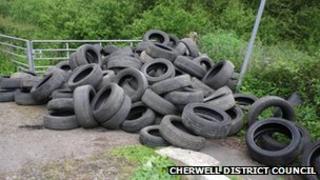 The dumping of hundreds of tyres in an Oxfordshire lay-by for a second time in less than two months is being investigated.
Cherwell District Council said 125 tyres appeared alongside Fenny Compton Road in Claydon on Thursday morning.
The authority said 214 were dumped in the same spot on 11 April.
Nearly 1,200 tyres have been dumped across the district in 40 separate incidents in Cropredy, Bicester, Banbury, Adderbury and Caversfield.
District councillor Nigel Morris said: "We really need help from the public to clamp down on this.
"Tyres should be disposed of in the correct way but this costs companies money so the less scrupulous will dump them in secluded spots."