Olympic torch relay: Ticket offer to Oxford's celebration may widen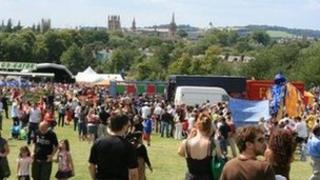 People from across Oxfordshire could be given the chance to attend Oxford's Olympic Torch party, which is currently restricted to city residents.
The Olympic Flame will come to the city on Monday 9 July for a free evening celebration in South Park.
The city council, which has funded the event, restricted the initial tickets to people in OX1, 2, 3 and 4 postcodes.
But council leader Bob Price said by then end of the week it hoped to open it out to residents county-wide.
Mr Price said: "We took a view from the start that, given it was been funded by the city council, the priority should be to residents of the city.
"By the end of this week we'll be able to assess what the take up has been, it's about 10,000 at the moment, so we can then afford to open it up to a wider group of people outside the city."
The event is expected to attract around 20,000 people and will feature alternative rock band Young Guns and Britain's Got Talent finalists Twist & Pulse.
There will also be an hour-long performance by the community arts project called Tree Of Light.
A number of large events have been staged in South Park, including a concert by Radiohead in 2001 and several Cowley Road Carnivals.