MoD to sell off former RAF Bicester land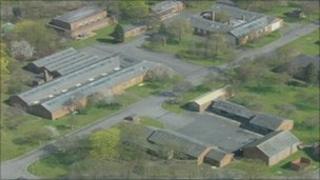 A 350 acre (141 hectare) former airfield in Oxfordshire is to be sold off by the Ministry of Defence (MoD).
A spokesman for the MoD said: "The RAF Bicester site is now surplus to defence requirements."
It has appointed an agent and expects viewings to take place over the summer, with the sale to be completed by the end of the financial year.
Nineteen of the buildings on the site are Grade II listed and some structures are Scheduled Ancient Monuments.
The air base was predominantly used as a training site, but became redundant in 2004. It is now only used as a base for gliding clubs.
Bomber Command Heritage (BCH), a campaign group which wants to establish an education centre and museum on the site, has been working with Cherwell District Council.
No housing
It hopes to invest £35m over 20 years to restore the buildings and make a "living-history-style education facility and museum covering both the military and civilian stories".
Martin Jones, from BCH, said: "We are greatly relieved that finally there is movement, this has been an issue since 2005.
"There are now such horrendous restriction on what a normal commercial developer can do we believe we have the most viable plan to preserve, what is the best example of a former strategic RAF bomber base left in the country."
Cherwell District Councillor Michael Gibbard, lead member for planning, said: "Like many other types of development of that site, Bomber Command Heritage's aspirations would be in line with the Local Plan which identifies heritage as an acceptable use.
"What the Local Plan rules out for the site is housing, which would not be considered acceptable."
BCH hopes to secure grants and sponsorship to pay for the renovation and expects to generate revenue from the attraction if it can secure the site.