Aung San Suu Kyi to accept freedom of Oxford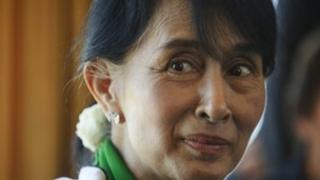 Burmese democracy activist Aung San Suu Kyi is to receive the freedom of the city of Oxford.
The Nobel Peace Prize winner will receive the honour almost 15 years after she was originally awarded it while under house arrest in Burma.
Her son accepted it on her behalf in 1997.
The pro-democracy leader will be presented with a scroll at a ceremony at St Hugh's College by Lord Mayor of Oxford Alan Armitage.
During her two-day visit to the city, where she lived for a number of years, she will also speak to students at the Oxford Union.
The former lord mayor of Oxford, Bill Baker, who presented the freedom of the city to her son, said: "It was a great honour to give this status to such a remarkable woman.
"I am delighted that she is now able to accept this honour in person."
She will also receive an honorary doctorate in civil law.
The visit is part of a two-week European trip - her first in almost a quarter of a century.
There is only a small number of people who have been given freedom of Oxford, including Sir Roger Bannister, Nelson Mandela and authors Colin Dexter and Philip Pullman.