'Lost' George Bernard Shaw painting given to Labour Party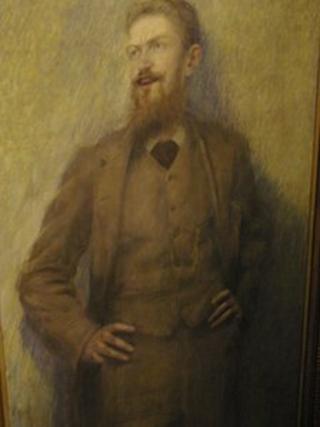 A painting of the playwright George Bernard Shaw, which was found at an Oxford college, is to be handed back to its original owner, the Labour Party.
The artwork was identified by Professor Audrey Mullender, principal of Ruskin College.
She said: "I did some research and became quite excited when it appeared that it might be this lost portrait."
Andrew Smith, Labour MP for Oxford East, said it would be hung in Labour's new headquarters in Westminster.
The portrait, known as GBS - The Platform Spellbinder, was painted in 1892 before Shaw was known as a writer.
It is 5ft (1.5 m) high and 3ft 2in (0.9 m) wide and is estimated to be worth between £10,000 and £20,000.
'Coming home'
Shaw was involved romantically with its painter, Bertha Newcombe.
Until its rediscovery the painting was thought to have been lost during World War II.
It is not known why it was moved to Oxford from the Labour Party headquarters in London.
Prof Mullender added: "I noticed this painting, which has been hanging high up on a wall in a common room for many years.
"A timely visit from Canada by the President of the International Shaw Society, who knew of a reproduction of the painting in one of Shaw's own books, confirmed that I had, indeed, found the missing work."
The professor will officially hand over the portrait to Mr Smith on Friday.
Mr Smith said: "It is amazing that such a big picture got lost, but greatly to the credit of Ruskin College that they have found it, together with the note on the back which confirmed it as the property of the Labour Party.
"I'm sure everyone will be happy that George Bernard Shaw, one of the leading lights in the early years of the party, will be coming home."
Shaw was less than complimentary about Ruskin College when it was founded in 1899.
He refused to be associated with Ruskin Hall, as it was then called, claiming the enterprise of turning "workmen into schoolmen" would fail as an enterprise.
Prof Mullender said: "Ruskin College is still here in Oxford, over a century later, and we are still changing lives - only these days they call it 'social mobility' and everyone wants to learn from us how to do it."
Shaw, who wrote scores of plays, including Pygmalion, died in 1950.