Aung San Suu Kyi crowds speak of 'emotional' Oxford return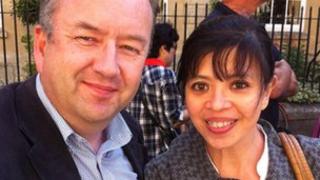 The honey-coloured stone of Oxford's buildings were bathed in the warm sunshine of an English summer's day as hundreds of people waited to see a former student return.
Men with black bowler hats carried ornate gowns while students with their suits and tassels hurried off to their exams.
For Aung San Suu Kyi, an undergraduate in the city in the 1960s, such scenes recall a time long before tumultuous change defined so much of her life.
Returning to Oxford for the first time in 24 years, memories of an era before her battles with Burma's military junta must seem very distant to the 67-year-old pro-democracy campaigner.
Since 1988 Michael Aris, her husband and Oxford professor, has died of cancer and her two children Alexander and Kim have grown up.
'Beacon of hope'
And in the space of a quarter-of-a-century, she has become a heroine to many, with her arrival prompting hundreds of people to turn out to catch a glimpse of her or, for a few, hand her flowers and shake her hand.
Patricia O'Neill, from Oxford, said: "I was so excited, it was unexpectedly emotional.
"She is an incredibly beautiful woman, who I have such admiration and respect for. I was very privileged to see her."
Charmaine Lewis, 46, left Burma in 1988 as the military was closing the schools and universities.
Her family lived in the heart of Rangoon and her brother was killed during the turmoil of the time.
"I was 18 and my parents thought that I should leave the country and come to England to get an education," said Mrs Lewis.
She added Ms Suu Kyi was a "beacon of hope" for the country.
Mrs Lewis's husband Graham said the campaigner had shown a great deal of courage in pursuing change in the troubled country.
"Better slow, gentle change than violent revolution," he said.
'Huge impact'
Exiled politician Kaung Myatt, 45, spent five years in prison in Burma before moving to England where he has lived for the past three years.
He said: "I'm here to remind her that she needs to win [elections] in 2015.
"It's quite controversial to say, but she needs to be part of the government, without power you can't make change."
Holly Holman, 55, was waiting in the crowd with a letter for the Burmese politician.
She is trying to set up a charity for orphaned children in the country.
"She's amazing, her endurance and sacrifice," said Mrs Holman.
"People out there really love her. She deserves all the recognition we can give her."
Her achievements were also not lost on the younger generation.
Jonathan Glyn, 22, and Rosa Clarke, 23, are both former Oxford students who came to see Ms Suu Kyi.
Mr Glyn said: "It's a visit from someone that's had a huge impact on the world so it's exciting to see her."
Oxford is a city where the streets are adorned with the statues of figures whose ideas were thought heretical in their time.
Many of them made the ultimate sacrifice for what they believed, today one of its biggest institutions has honoured another one of those inspirational figures who has been prepared to sacrifice so much for her ideals and the people who believe in her.