We Are Augustines headline Upstairs gig at the O2 Academy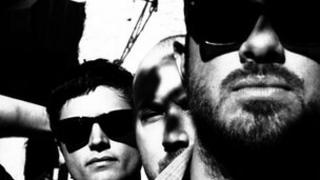 Four Oxfordshire acts will support Brooklyn band We Are Augustines when they play Upstairs at the O2 Academy in association with BBC Introducing.
The gig on Thursday 5 July will feature Deer Chicago, Highway Alaska, ArtClassSink and Yellow Fever.
We Are Augustines' Eric Sanderson said: "Growing up in the States you always hear about the amazing universities and phenomenal music from Oxford.
"Now thanks to the BBC we have the opportunity to play there in July. We are sure that our first visit will be incredible and can't wait to rock with the people of the City of Dreaming Spires."
The band have played a session with Jo Whiley and their debut Rise Ye Sunken Ships was 6Music's Album of the Day.
The BBC's Mischa Pearlman described it as a "triumphant and alive debut album born from the bleakest of experiences".
'Pretty explosive'
It will be the second time main support act Deer Chicago have played on the BBC Introducing stage.
Jonny Payne, lead singer of the euphoric-rockers, said: "It was a big milestone for us and we've had some great things happen because of it.
"I've been listening to We Are Augustines a lot recently and we're really excited to be supporting them too.
"As far as I can tell it should be pretty explosive."
Dele Adewuyi from Yellow Fever said his band's influences range from Rage Against the Machine to Paul Simon.
He added: "We kind of flick between two styles: we have songs that are more straight rock or indie, and songs that are funkier and more danceable."
The band only recently completed their A-Levels.
"We've been rehearsing a lot since finishing them so hopefully we'll be tight and well rehearsed," he said.
The bill is rounded off by heavy rock four-piece Highway Alaska from Banbury, and Oxfordian shoegazers ArtClassSink.
In a statement ArtClassSink said: "It's a privilege to open for We Are Augustines who we love.
"We intend to open the night with a bang to get everyone excited for the night ahead."
Every month a selection of local talent plays the regular band nights at the O2 Academy, with highlights featured on BBC Radio Oxford's Introducing programme .