Oxfordshire's memorial bell is unveiled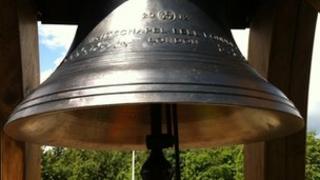 A bell made to toll during repatriation ceremonies in Oxfordshire has been officially unveiled.
The £30,000 large tenor bell was commissioned by the Royal British Legion and local volunteers.
It is suspended in an oak frame in Norton Way, Brize Norton, opposite the county's memorial garden.
Mike Henderson from the Oxfordshire Royal British Legion said: "The community should be very proud of what it has achieved."
The bell was made at the Whitechapel Bell Foundry in London and is 31in (79cm) wide and 25in (63cm) high.
It lies on the route between RAF Brize Norton and The John Radcliffe Hospital in Oxford, where the bodies of service personnel are taken when they are repatriated.
Lee Mackie, whose son Jason was killed in Afghanistan in 2009, said: "It makes me very aware that people recognise repatriations and that they are going to continue to support every one of our fallen soldiers."