Why does Henley-on-Thames do festivals so well?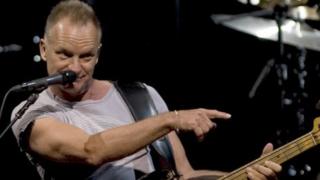 Henley-on-Thames may only have a population of 11,000 but the town is fast becoming a hub of festival action in Oxfordshire.
While in recent years nearby festivals such as the established Truck Festival and Harvest struggled financially, the little town of Henley successfully transforms into a land of stages, marquees and the odd bit of 'glamping' - or glamorous camping.
At a time when big festivals in the UK such as the Big Chill, Oxegen and Sonisphere have been cancelled, the relatively new Rewind Festival - established in 2009 at Henley - is enjoying a roaring trade in 1980s nostalgia.
This year, acts on the bill include Adam Ant, The Bangles, OMD and The Lightning Seeds.
In 2011 it expanded its capacity from 30,000 to 40,000.
But the real coup is at the Henley Festival. Sting will be opening the five-day arts and music event later, placing it firmly on the map of serious festival contenders.
"Sting on the opening night is huge," said Chris Swindells, editor of website Virtualfestivals.
"It looks like a really strong line up this year with some exclusives."
He added that 25,000-capacity Henley was part of a seemingly growing phenomenon of "festivals targeted at the older person", which he has seen grow in the last five years.
"These festival attract generations of people that went to festivals in their younger days and still want to be part of that scene but move on to things like the Rewind Festival in Henley," he said.
"Some of it is to do with nostalgia."
Neil Greenway, founder of the efestivals website, said the success of Henley "was obvious".
"It's just rich locals going to rich events," he said.
"In general, younger people are more skint. Reading Festival used to sell out in minutes but it doesn't anymore.
"Parents no longer happily shell out money for their kids. Festivals for older people do well because they've got more money."
And Henley-on-Thames, the affluent historic town nestled along the River Thames, appears to be a magnet for the festivalgoer wishing to shun a mosh pit or a muddy field and plump for the more sophisticated outdoor music experience.
Speaking about the success of Henley Festival, now in its 30th year, artistic director Stewart Collins said: "It would be lovely to think I had a mathematical formula to give you the answer."
"In the last 10 to 15 years there has been an enormous expansion in the number of festivals, but they are very expensive to do," he added.
"The chances of failing are high. They have to get high audience levels to make it, and there is a crowded market. People's pockets have also been pushed."
He said that rather than the usual open air stage in a muddy field, the Henley Festival was "a little village" with enclosures inherited from the regatta the previous week.
He said the attraction was also "dressing up", with a strict black tie dress code.
But he denied it was a posh event for "rich locals", although he said 60% of the audience lived within 15 miles of the site.
"I don't go with the word posh, unless you think by dressing up that makes you posh," he said.
"You wouldn't call Royal Ascot posh anymore.
"It's not an expensive experience, it works out at less than £6 an hour," he said of the tickets, which start at £35.
All proceeds of the festival go to charity.
He also puts the festival's success down to the older target audience, despite introducing younger acts such as Olly Murs and a marquee nightclub.
"The average age of the festivalgoer has probably dropped in the last five years, but I'm talking from 50 to 40," he said.
"But not every festival has to appeal to 25-year-olds."