Macabre tales revisited in Little Book of Oxfordshire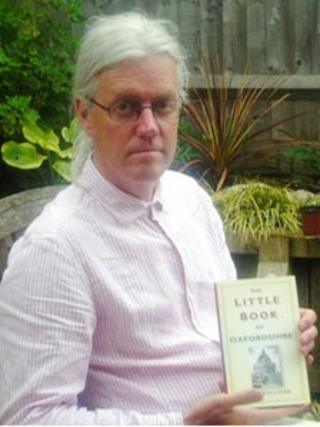 Anne Green was a teenager when she was hanged in Oxford after being convicted of murdering her baby in 1650.
She was left dangling from a noose for about an hour before she was declared dead.
Her body was taken to the anatomy school at Oxford's Christ Church College for dissection, but while she was on the slab students heard her make what a local journal described at the time as a "rasping breath".
She lived for a further 15 years, until 1665, giving birth to three children.
This is just one of the macabre stories recounted in The Little Book Of Oxfordshire, published earlier this week.
The book's author, Paul Sullivan, said: "Anne was hanged fairly successfully. She would have been hoisted on to a cart which would then have been drawn away by a horse, leaving her choking to death.
"Children were swinging from her legs so energetically that the crowd had to be dispersed. It would have been a proper family day out."
Mr Sullivan told how anatomy schools relied on the execution of convicted murderers, as it was their main source for bodies.
"She was on the slab, before students with scalpels poised, when she she made a rasping breath," Mr Sullivan said.
"Rather than put a pillow over her head they employed hot drinks and blood letting. She was fine after 12 hours."
A press cutting from Jackson's Oxford Journal tells how Anne was convicted of her baby's murder despite a doctor concluding it could have been still-born.
Mr Sullivan said: "It would seem she was at the very least seduced, and at worst raped, by her aristocratic employer, but the blame was placed on her, as was the norm at the time.
Laws of fornication
"The charges were dropped when she came back to life."
The book also features an incident from a court report in Jackson's Oxford Journal in 1696 when George Fuller, of Chinnor, sold his wife to Thomas Heath, of Thame, for 2¼d per lb.
Mr Sullivan said: "Heath and the woman had a brief honeymoon in Benson before they were arrested under the laws of fornication following three months of 'marriage'. They were both fined and forced to separate although we don't know what became of Fuller.
"This was a common loophole and quite often the woman would be happy to leave a violent and unhappy marriage."
'Outsider's slant'
The book also also features the county's achievements and its famous residents, including Agatha Christie, C.S. Lewis and J.R.R. Tolkien.
Mr Sullivan, 50, believes his book has an "outsider's slant" to it.
He said: "I moved to Oxford from Buxton, Derbyshire, in 2005, when my wife was offered a bursary to study an MA at the university, but I'm originally from Grimsby, Lincolnshire."
Mr Sullivan, who has had seven books published, worked part-time in The Museum of Oxford to immerse himself in the history of the area and visited as many of the city's celebrated sites and events as possible.