Alice in Wonderland flotilla takes place in Oxford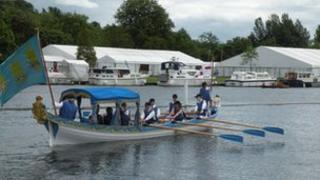 A flotilla of boats took to the river in Oxford to mark the 150th anniversary of the first telling of Alice's Adventures in Wonderland.
Lewis Carroll told the story to 10-year-old Alice Liddell in July 1862 as they rowed down the River Thames from Folly Bridge to Godstow.
Organiser Cath Nightingale said rain did not affect the re-enactment.
The flotilla left Christ Church Meadow, passing under Folly Bridge, through Osney Lock and up to Godstow.
Stand-ins for Carroll, his friend Robinson Duckworth, and Alice Liddell and her two sisters travelled in lead boat Queenie.
They were followed by two Thames skiffs, the ceremonial shallop Royal Thamesis which featured in the Jubilee pageant, and a selection of Venetian boats.
The flotilla was organised in association with the Lewis Carroll Society and was crewed by Oxford-based rowing club City Barge.
'Characteristically eccentric'
Events continue on Sunday with a caucus race, inspired by a picnic in which Carroll and Liddell were drenched in the rain.
In the novel the character of the dodo suggested a race to help its contestants get dry.
"When Alice grew very large she cried and the creatures around her nearly drowned in her tears" Tish Francis, co-director of The Story Museum, explained.
"It's going to be a very characteristically eccentric Oxford event."
Carroll's real name was Charles Dodgson. He also wrote Through the Looking-Glass, which included the poem Jabberwocky.
He was a mathematician, deacon and Christ Church Oxford fellow, and remained there until he died in 1898.