MoD in £50m order for flight simulator at RAF Brize Norton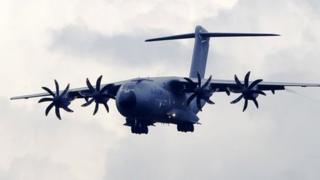 The MoD has placed a £50m order for a flight simulator to be based at RAF Brize Norton in Oxfordshire.
The contract for the Airbus A400M simulator was signed at the opening of the Farnborough Air Show in Hampshire.
The simulators are built in West Sussex, and the contract will help to sustain 50 high-tech jobs and skills.
In a speech to aerospace bosses at the show, Prime Minister David Cameron said the sector was "a real success story".
He said the industry was "vitally important... for the future of our country and our economy".
Space tourism
But Mr Cameron warned that the rest of the world was "breathing down our necks" and the UK had to be "constantly alive to the competition".
While he toured stands at the event, he also stopped to talk to Andrew Churchill, managing director of Nuneaton-based precision engineering company JJ Churchill which employs 133 people.
Mr Cameron said: "In a hugely difficult time in the global economy UK aerospace is, quite simply, flying.
"But there can be absolutely no complacency. International competition gets more fierce by the year."
The new Airbus A400M simulator is designed and built by Thales Training and Simulation in Crawley.
It comes after the MoD ordered 22 of the A400Ms to replace its C-130 Hercules fleet, with the first delivery expected in 2014.
The contract coincides with the announcement of £3m in government funding for 500 degree-level places in aerospace engineering over the next three years.
Business Secretary Vince Cable said: "The UK aerospace sector is a national success story and to ensure we stay ahead of the game we need to attract the brightest and best to the industry."
Up to 250,000 visitors are expected at the six-day Farnborough Air Show with about 1,400 exhibitors from more than 40 countries attending.
Sir Richard Branson is also expected to give an update on his Virgin Galactic space tourism plans.
Among the aircraft expected at the show is the world's largest passenger plane, the Airbus A380 superjumbo.
Seattle-based Boeing will also be flying its new 787 Dreamliner passenger plane at the show.