Oxford fails in World Book Capital bid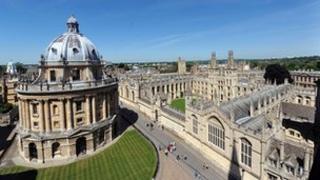 The team behind Oxford's failed bid to become Unesco World Book Capital City in 2014 has said it hopes some of the planned events can still go ahead.
The designation, given to cities to promote reading and literature, was awarded to Port Harcourt in Nigeria.
Oxford had proposed a programme of events including conferences, festivals, plays and competitions.
Tony Stratton, of Oxford Inspires, said they were "disappointed" but work put in to the bid would not be wasted.
"During the two-year bidding process, literary experts from different fields have been brought together.
"New ideas of joint working have burgeoned, which will enhance the activities of Oxfordshire's libraries, publishers, booksellers and cultural organisations and put a spotlight on reading for all.
"We wish Port Harcourt the best of luck in 2014," he added.