Heyford Park free school gets go-ahead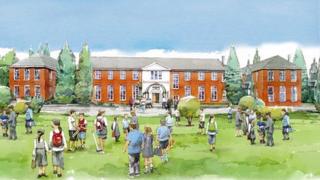 A new school for children aged four to 19 in Oxfordshire has been approved by the Department of Education.
The Heyford Park Free School in Upper Heyford will open in September 2013 and is expected to have 120 children.
It will grow to teach 840 children across all age groups by 2019.
The school, in an old officers' mess building, forms part of a development on the site of an old air force base which also includes 1,078 new homes.
Developer The Dorchester Group said the whole site should be completed by 2020.
RAF Heyford played a vital role during both world wars as a training base and was handed over to the United States Air Force Strategic Air Command.
During that time about 15,000 American servicemen lived and worked at Heyford, which was known as Little America in Big Oxfordshire.
The site was handed back to the Ministry of Defence in 1994.