Local village's Tortoise in Love film goes national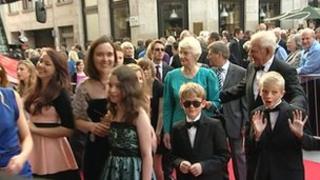 A romantic comedy starring and created by residents of an Oxfordshire village has been released at cinemas across the UK.
Tortoise in Love was entirely funded by the people of Kingston Bagpuize and premiered at London's Leicester Square.
Writer and village resident Guy Browning shot the film in the village in 2009.
Neighbours helped with tasks ranging from acting, catering and costume-making during the six-week shoot.
'Very surreal'
Culture Minister Ed Vaizey, who lives in the village, also contributed a one-line cameo in the film.
Producer Steffan Aquarone said: "It's very surreal and we're just coasting towards Monday when we get the box office figures.
"It's just amazing that it's being released nationally - I hope that people go and see it. The village is very excited."
The film is about Tom, a gardener at a big house in the village, who falls for Polish au pair Anya when she arrives for the summer and tries to win her heart.